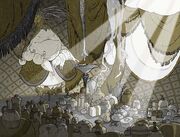 Arius is an alien fortune-teller. She gives
Eva Nine
a prophecy and marks her wrist with her symbol. Later, Arius is consumed by her brother,
Loroc
. It is said that Arius looked to the future. Arius usually requires payment for her fortune-telling. Arius has a pet snake that eternally lays eggs for her, as long as she keeps eating.
Ad blocker interference detected!
Wikia is a free-to-use site that makes money from advertising. We have a modified experience for viewers using ad blockers

Wikia is not accessible if you've made further modifications. Remove the custom ad blocker rule(s) and the page will load as expected.